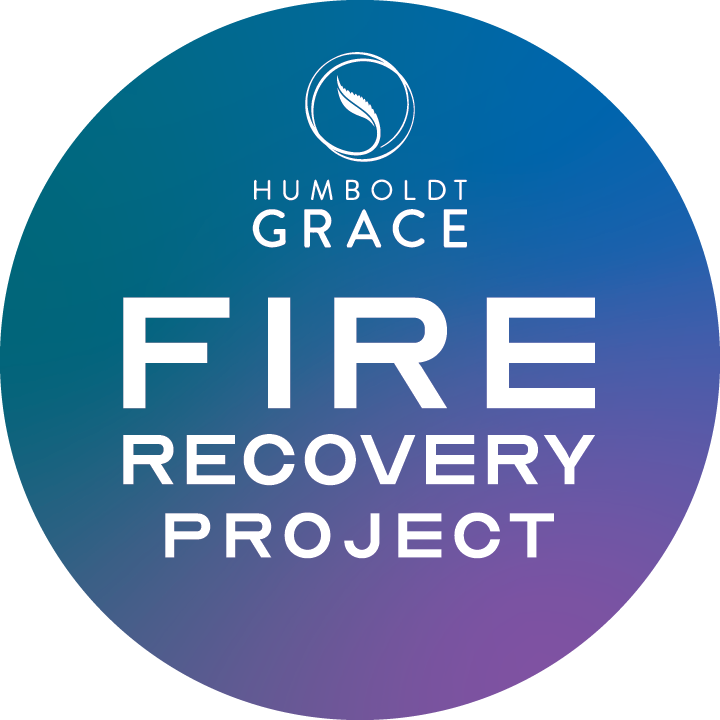 fundraising for disaster recovery
The Humboldt Grace Fire Recovery Project helps rural communities in the Emerald Triangle rebuild after fires.
In the Emerald Triangle, we have large "back to the land" homesteading communities. These communities are primarily located in rugged locations that depend on volunteer and community support to survive, leaving them at risk and depleted after a crisis occurs.
                                                                                                                   Photo credit: Shea Phillips
HOW WE DO IT
We Hosted an ONLINE Auction and DRawing Fundraiser
We teamed up with our partners at The Ink People Center For The Arts and Synapsis Eureka to put together an incredible online auction featuring art & Emerald Triangle collectibles, as well as gift cards for local services. 
We Purchase Vouchers from Local Companies

We negotiate with local building, agriculture supply, water supply and emergency supply companies to purchase relief vouchers. In return, the suppliers receive sponsorship & announcements during our auction. 
We Award Vouchers
We review applications for relief & award the vouchers. The recipients include landowners, homesteaders, local business owners, small farmers, and local organizations providing relief in the Emerald Triangle. The vouchers will be available in January 2022.
HOW YOU CAN RECEIVE A VOUCHER

Apply to receive relief
Vouchers are awarded to support individual landowners, homesteaders, local business owners, small farmers, and local organizations within the Emerald Triangle who are either in need of or focused on projects that provide recovery support services.
View our application for more detail regarding eligibility. LIMITED SUPPLY.

Make a fINANCIAL DONATION
W

ant to support this project, but don't want to participate in the Art & Collectibles Auction? You can make a fiscal donation.
U

se the link below to donate to our (501)c3 fiscal partner organization – the Ink People Foundation. 
We greatly appreciate your generosity. Our community is wonderful because of people like you.
Digital Community Rally March 20th, 12:00 Pm
We have had to pivot the ending of the auction due to unexpected changes from COVID.  We are hosting a 2 hour show with guests i
mpacted directly by the fires, some of the 
artist who donated to auction,
world wide cannabis advocates, 
the director to Cash Crop will be sharing a short of his new Film Trim: Women In Cannabis, and much more. Please RSVP to get the links to live streaming event.